How To Find Your Valentine's Day Lingerie Look
Posted on February 08 2019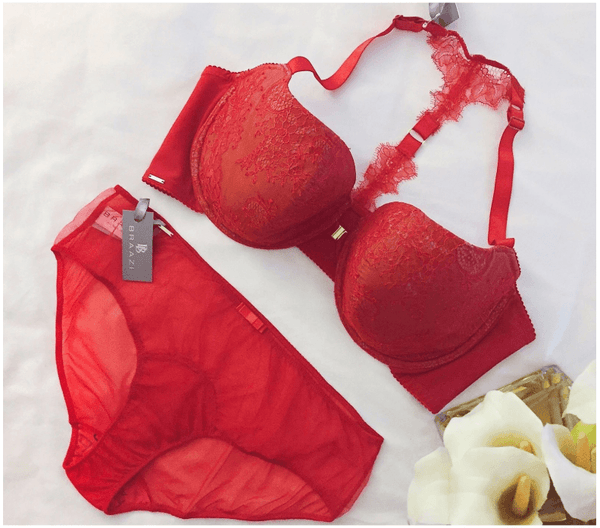 ---
5 Tips To Help You Find Your Valentine's Day Lingerie Look
---
Valentine's Day is just around the corner – and lingerie is one of the day's most popular gifts! Whether it's a woman buying it for herself to surprise a special someone on date night, or whether it's someone buying it for her, beautiful and sexy lingerie is practically a tradition for V-Day!
But where to start, to find something you like for the special day?
Here are my five tips for finding the perfect Valentine's Day lingerie look.
Well, if you're just reading this and don't have your look yet - you don't have much time, but can still get it done!
When possible, don't wait until the last minute to find something. Give yourself time to shop around. Shopping for a well-fitting bra is stressful enough – trying to find "just the right one" for a special day or occasion will only add to that stress, so do yourself a favor and start looking several weeks before the date if you have the luxury of time.  
If you don't, start online at your favorite retailers, then call and check to see if your size is available. Nothing is more stressful as a wasted trip to the mall.
"All too often, I see women buying Valentine's Day lingerie that they know is not the best style for them, is going to be uncomfortable or even downright painful."
2. Style is NOT as Important as Fit
This may sound kooky, but it's true. All too often, I see women buying Valentine's Day lingerie that they know is not the best style for them, is going to be uncomfortable or even downright painful. The lingerie gets worn for five or ten minutes and then promptly gets tossed into a drawer and never worn again. Don't do that! Instead, go for lingerie that fits your body well and that you find comfortable to wear and sneakily passes for every-day-wear. No one finds it fun to spend an evening in something that's uncomfortable, and that uncomfortableness will show to those around you. If the fit is great, you'll exude confidence. A full coverage bra and panty can be just as alluring and sexy as something skimpy.
Valentine's Day (or any holiday or special occasion) is a good time to try something new – I recommend looking at a new style that's still somewhat similar to what you know you already like and wear. So, if you typically wear a full coverage, try a to find one that has special adornments like extra straps, lace or bling. If you like full panties, try a hipster. They ride low on the hips, but still give you full coverage in the back and can be worn all day without feeling the need to pull or tug on them. But whatever you try, still keep in mind Tip #2: fit. Fit is everything. Confidence and feeling good in your body are your best accessories.
4. Lace Just Not Your Thing? Try Sheer!
Sheer lingerie is a great alternative if you find lace too scratchy or if you're just not a fan of it. Even better, a good, supportive sheer bra transitions from day to date night really well. Sheer lingerie, with its semi-transparency, can be very alluring in a "peek-a-boo" way and it makes your skin tone the backdrop. Nothing says "Happy Valentine's Day Babe" better than that. It's also a great option if you're someone who prefers an understated, yet coy lingerie look.
5. Get Their Favorite Color!
Red and pink are perennial favorites to buy on Valentine's Day, but if your special someone's favorite color is purple, then find something in your preferred style that hue! It's the perfect compromise to select your style and their favorite color. It'll have "I did this for you" written all over it.
In the end, buy something that won't get tossed in a drawer and never worn again. Buy something you love, that fits well, so that you'll continue to wear it long after the special day is over. The best bras and panties are ones you feel good in, and which are comfortable enough so you're not constantly adjusting and fiddling with. The fit should be so good you forget you're wearing it!
"In the end...buy something you love."
Finding lingerie for special days like Valentine's or a wedding anniversary require a bit more thought, time and energy. Next time – skip the search stress entirely and instead, opt to design your own and have it delivered to your door! You choose the style, design, and colors, and with bespoke, the fit is guaranteed to be perfect for your body!
Until Next Time, Stay Inspired,